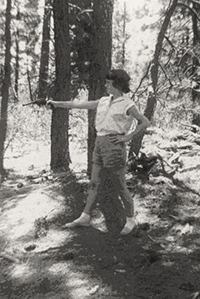 What I'm about to write is my personal opinion, based on personal experiences. Nothing empirical about it. Every form of media is full of stories about and analysis of America's gun culture. I'm simply adding my own small bit of reflection.
When I was 12 or so and we lived in Sacramento, my parents would take me target-shooting in a forested area some distance outside town. My dad owned both a 38-caliber and a 22-caliber handgun. We used the 22 to shoot at cans. I thought it was fun. That memory is partially based on an old snapshot of myself aiming the gun.
A more disquieting memory remains from around the same time. I was home alone late one afternoon. My parents were still at work, and I had awful monthly cramps. I called my mother, who said to drink a bit of the wine that was in the fridge to help with the pain. Inadvertently, I chugged from a bottle of whiskey instead. I managed to get drunk half out of my mind.
At various points within this episode of altered consciousness, I did some odd things. I ate some garlic. I spilled some cereal on the floor and left it there. And—I recall this as if it were yesterday—I went to my father's nightstand, opened the drawer, and looked at his gun. I knew I'd be in trouble if I changed the position of anything. So I just looked.
As an adult, I once mentioned the idea of maybe getting a gun for protection.  My husband said absolutely not, he didn't want one in the house, lest he use it on himself during a depressive episode. His intense black moods are very rare now, but I took his unease to heart.
A friend of ours once had us babysit his antique gun for some months after his traumatic divorce. It was a gun for which he would have had to find a particular kind of ball and powder, if he were to use it, but he didn't want it around. Another person I know, who used to drink a lot, once waved a similar unloaded old gun at his own head in the midst of a nasty marital argument, and his action unnerved his wife to the point that she called the police and had him locked up for a psych evaluation. I had never thought of either of these men as violent.
And that's why I believe we shouldn't allow guns around the house. That goes especially for weapons that can massacre crowds when someone's mental status shifts from weird to no longer capable of normal thought.
Because even I, when I was a good little girl whose brain chemistry was briefly altered, found the deadly alluring.
Copyright (c) by Susan K. Perry
Follow me on Twitter @bunnyape