Space has long been a wonderful source of inspiration for many people. Numerous scientists and engineers have pursued careers from having the touchpaper of their imagination lit by the thrill of exploring Space, whether that be in the context of science fiction such as Buck Rogers or Star Trek or the real deal, such as the Apollo moon missions.
Even those, such as myself, who do not have a Space career can still get involved and learn more. Recently the British Interplanetary Society (BIS) held a special day of talks billed as an "Introduction to Rocket Science" which was an opportunity for the curious to hear from leading experts. The BIS is the world's oldest space advocacy organisation and has for over eighty years looked ahead in visionary thinking about the exploration of Space.
To my delight, none other than the prestigious Royal Institution (RI) in London was the venue for this blast off into astronautics. The RI is a cherished organisation in the UK and many of us are familiar with the science-themed Christmas Lectures that are held there. The talks were held in the same lecture hall used for the Christmas Lectures, which gave proceedings a special, historical atmosphere.
As always, the BIS warmly welcomed members of the audience and prior to the launch of the event, I noted how many young children were in attendance. As a father, it is clear to me how quickly children grow up and so reaching out to them with events of this type is so important in firing their imaginations and giving them a valuable look into these areas.
The day featured a variety of presenters on all sorts of Space related topics and included some practical experiments, which reminded me vividly of the famous Christmas lectures. This included a beautiful, ultra-light model aircraft powered by a rubber band to demonstrate the principles of flight, followed later by a dramatic combustion of an alcohol-based liquid in a canister to loudly demonstrate something of the power of a real rocket engine.
Several of the speakers touched on how their careers had progressed and this included Abbie Hutty, a Senior Spacecraft Structures Engineer who is working on the ExoMars rover vehicle. In doing so, she built on the theme of reaching out to the youngsters in the audience and planting the idea in their minds that they too might one day get involved for real. She spoke compellingly about the fascination of her work and the sense of achievement.
One of the most powerful presenters at the day was Professor Chris Welch, a Fellow of the BIS. He described how hearing a talk by Carl Sagan at the RI in 1977 on the importance and urgency of the human exploration of Space had motivated him in turning his interest into his vocation. Later Professor Welch debated on a key issue for Space exploration: Are astronauts really needed or should all exploration be left to robotic missions? The view of the audience was unsurprisingly that human exploration of Space should continue.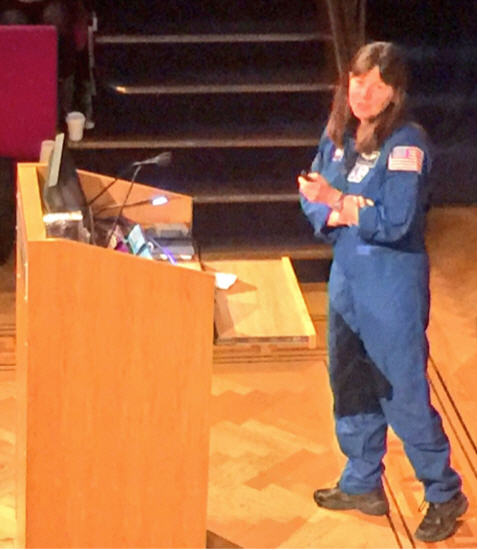 Another star speaker was Cady Coleman, a NASA astronaut and a veteran of two Space Shuttle missions and a stay on the International Space Station. It was a special thrill to me, along with many others in the audience, to hear for the first time from someone who had been in space. Cady Coleman soon earned the gratitude of her RI audience with kind remarks about British space hero Tim Peake, referring to him as an exemplary astronaut and a gifted science communicator.
The extraordinary growth in the discovery of extrasolar planets (that is planets outside of our Solar System) was the subject of another talk. Dr Don Polacco detailed the progress in finding these, including extrasolar Earth-like planets, and noted the tendency for somewhat over-enthusiastic, if not to say inaccurate, headlines that can arise from new findings. I was particularly fascinated by his view that if we should one day be able to communicate with an extrasolar civilisation, the chances are that they would be millions or even billions of years more advanced than us.
It was an enlightening and entertaining day with a rich diversity of speakers. Hearing directly from leading academics and practitioners helps take an interest off the page and here, this feeling was bolstered by being at the RI, with its prominent role in advancing scientific knowledge. Attending events of this sort are not only a great way to learn more – they can inspire a feeling of being involved, of being an active participant ready to take further steps in an adventure into science.